Welcome to Rob Grant.com
Rob Grant is the Founder of
WebMediaProperties.com
, a diversified online media and publishing company based in Florida, operating a global network of 8000 specialty web sites.
Grant is also CEO & President of Point Judith Properties, Inc., a real estate holding company located in New York State.
Considered one of the early pioneers and visionaries in the emerging field of direct search and the internet, Grant has been credited with building one of the largest online real estate networks in the world.
Today, his various companies, including WebMediaProperties, control one of the largest online networks of consumer information portals and web sites covering a diverse spectrum of industries including Automotive - (www.FourWheelDrive.com) , Music - (www.RecordingArtists.com) , Travel - (www.CaribbeanResorts.com) , Entertainment - (www.TalentAgents.com) , Publishing- (www.BookPublishers.com) , Winter Sports - (www.CrossCountrySkiing.com) , Summer Sports - (www.Marathons.com) , Education - (www.SpecialEducation.com) , Hobbies - (www.TropicalFish.com) , Law - (www.TradeMarkAttorneys.com) , Business - (www.PRFirms.com) , Construction - (www.GolfCourseHomes.com) , Special Interest - (www.DietBooks.com) , Retail - (www.DiscountDesignerApparel.com) , Mail Order - (www.ChristmasWreaths.com) and hundreds of other categories.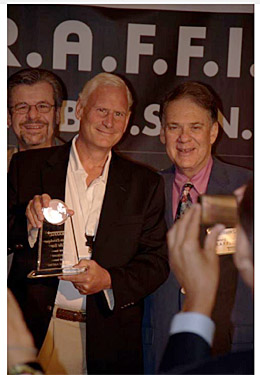 Rob Grant wins
'Developer Of The Year'
WebMediaProperties also operates one of the the worlds largest verticals in Real Estate and Finance. This real estate network encompases some of the largest metropolitan markets in the United States & North America including www.NewYorkRealEstate.com , www.AtlantaRealEstate.com , BeverlyHillsRealEstate.com , PhiladelphiaRealEstate.com , www.NewJerseyRealEstate.com , www.MiamiBeachRealEstate.com , and hundreds of other U.S. cities.

Around the globe, WebMediaProperties.com controls 90% of the worlds major financial markets including www.LondonRealEstate.com , www.TokyoRealEstate.com , www.HongKongRealEstate.com , www.GermanyRealEstate.com , www.SpainRealEstate.com , www.SwitzerlandRealEstate.com , www.ItalyRealEstate.com , www.PortugalRealEstate.com , www.IrelandRealEstate.com , as well as hundreds of other international cities and countries.

WebMediaProperties.com also owns strategic markets in major regions including www.AustraliaRealEstate.com , www.LatinAmericaRealEstate.com , www.CaribbeanRealEstate.com , www.SouthAmericaRealEstate.com , www.AsiaRealEstate.com , and many others.

Over the last 10 years, Grant has also focused his efforts on building one of the largest educational verticals on the net. Today, www.EducationalDirectory.com controls over 3000 educational brands including major sites like www.SpecialEducation.com , www.CatholicSchools.com , www.CulinaryInstitutes.com , and www.GameDesignSchool.com.
As 'For-Profit' education continues to expand and accelerate online, EducationalDirectory.com is poised to be a leader in this emerging space.
We invite you to learn more about WebMediaProperties.com, EducationalDirectory.com, Point Judith Properties Inc, and the many other projects which form the unique vision of its founder, Rob Grant.
SAMPLE CONTENT SITES
Partners: